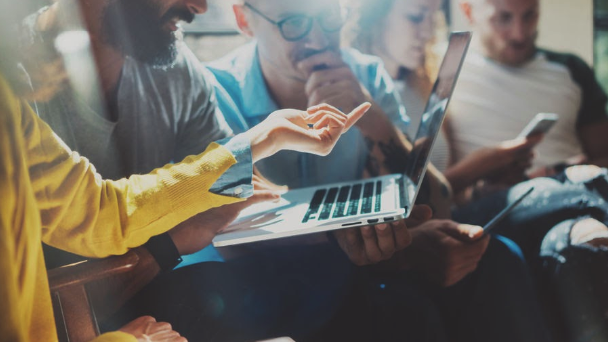 Back in the day, business-to-business deals were done through personal networking, conferences, and salespeople finding and fighting their way through the right gatekeepers. Yes, these traditional forms of B2B sales are still present, and they likely always will be. For many companies, the primary B2B sales tools were reputation and even print advertising.
But the times are changing! Although we used to think B2B marketing needed to be "traditional" to reach the more senior, big buyers, it is no longer the case. According to the Content Marketing Institute's statistics on Blue Corona's report, half of all B2B buyers are millennials. Yes, you read that right! If you are looking to make B2B sales, half of your buyers are between the ages of 18 and 34. It means that B2B digital marketing needs to be brought out of the dark ages of newspaper ads and into today's landscape of digital content, social media, and automation. 
Some prominent B2B marketing names have already caught on. The same agency found that 70% of B2B marketers are creating more content more frequently than they were a year ago. Does this mean that B2B companies are killing the digital marketing game? No. Even though the landscape is ripe for the picking, there are still some key concepts that need to be understood by marketers looking to launch successful digital campaigns and stay leaders in their industry. 
How Digital Marketing Influences B2B Sales
Knowing the stats is crucial to understanding why we're all about digital for B2B sales. First off, according to the study from Acquity Group, more than 94% of B2B buyers do online research before purchasing. In other words, your web and digital presence are of utmost importance. Having a website that keeps visitors longer and encourages their movement through your digital marketing is essential. Your website should incorporate video content, which is proven to keep visitors on your pages longer, as well as fluidity throughout web pages. Moreover, you should even include automated chatbots to encourage conversations with potential customers. 
Video in marketing strategy is your first step into the new era of B2B sales. Having video content on your homepage will instantly give your business credibility and relatability. Additionally, it will help in your SEO efforts and cause more people to visit your site when doing their searches. Your video content is an invaluable asset to your digital toolkit. People can crosspost a single video across various platforms, such as Facebook, Instagram, etc. 
Fluidity in Digital Marketing
Having fluidity between all aspects of your digital marketing efforts is critical to your online marketing success. You would want to have a certain amount of content on your site, and you would want to link pages on your site to your blog posts or other pages. The more seamless the web experience, the higher the likelihood you have of attracting a customer. But it's not just about having the content on your site — it's about regularly creating more and more content to add. Having a blog is an excellent way to do this. We all know that the B2B sales cycle can seem to drag on and on. According to the Digital Marketing Institute, "If you can lure clients back to your site with strong content, you are more likely to forge trust, which can, in turn, lead them to the end of the conversion funnel."
Do You Use Automation for B2B Sales?
Lastly, it is crucial to understand what is available to you in terms of automation of your site. We are no longer living in an era where it is enough to have a "contact us" page. Instead, it would help if you had multiple ways for people to get in touch with you with as little effort as possible. Recently, there has been a strong trend of adding chatbots to websites. It allows you to capture a broader group of leads by asking visitors questions, answering others, and guiding them through your site. A well-structured chatbot can give your company worldwide, 24/7 availability. Another way to encourage leads to get in touch with you is through your social media presence. Not only can leads directly message you on Facebook and Instagram, for instance, but you can also guide them back to your site where your chatbot can answer their questions quickly. In short, making yourself widely available is essential. Utilizing chatbots and direct B2B messages on social media are the next wave of B2B contacts!